Call your local branch today for advice and availability...
McAlpine Plastics, Soil and Waste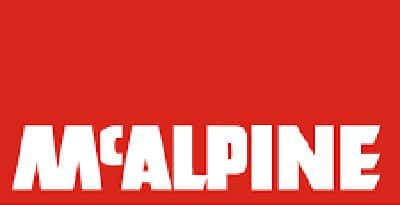 UK manufacturer
McAlpine is a manufacturer based in the United Kingdom and is actively involved in the promotion of quality products
Founded in 1902
McAlpine started making plumbing products in 1902.
Family owned business­­
The company is privately owned and still run by the same family today.
A reputation for quality
The company has an enviable reputation for producing innovative products driven by market conditions and customer demand.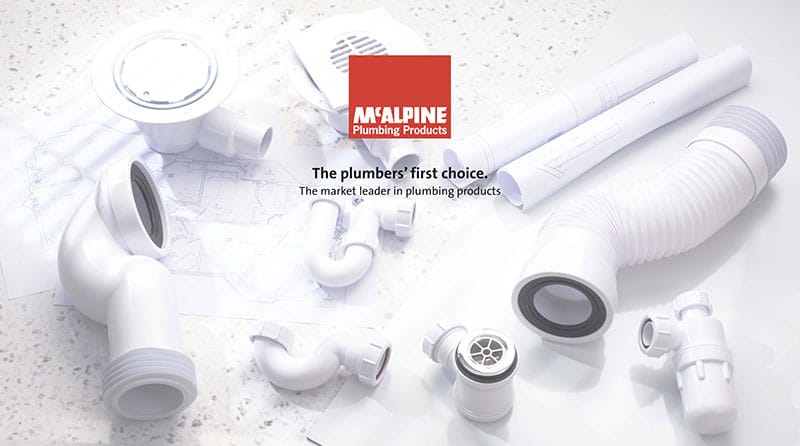 | MPG | Manufacturer Part Number | Manufacturer Product Description | Bell Stock Code |
| --- | --- | --- | --- |
| Traps & Fittings | A10 | MCALPINE BOTTLE TRAP P 11/4" A10 | MCBTP1Q |
| Traps & Fittings | A10A | MCALPINE BOTTLE TRAP P ADJ 11/4" A10A | MCBTP1QA |
| Traps & Fittings | A10AR-CP | MCAL BOTTLE TRAP P 11/4 A/V CP A10AR-CP | MCBTP1QVC |
| Traps & Fittings | A10AV | MCALPINE BOTTLE TRAP P 11/4" ADJ A10AV ANTI-SYPHON | MCBTP1QAV |
| Traps & Fittings | A10V | MCALPINE BOTTLE TRAP P 11/4" A10V ANTI-SYPHON | MCBTP1QV |
| Traps & Fittings | A32UK-CP | MCALPINE BOTTLE TRAP P 11/4" ADJ C/W 400MM TUBE&FLANGE A32 | MCBTA32CP |
| Traps & Fittings | ABS32/35A-CB | MCALPINE CP X ABS ELBOW ABS32/35A-CB | MCABS32E |
| Traps & Fittings | ABS32/35G-CB | MCALPINE CP X ABS COUPLER ABS32/35G-CB | MCABS32C |
| Traps & Fittings | ASA10 | MCALPINE TUBULAR TRAP P 11/4" ADJ ASA10 | MCTTP1QA |
| Traps & Fittings | ASA10-SP | MCALPINE TUBULAR TRAP P 11/4" ADJ ASA10-SP ADAPTOR 19/22MM | MCTTPIQASP |
| Traps & Fittings | ASA10W | MCALPINE ADJ 11/4" TUBULAR TRAP C/W WASTE ASA10W | MCATT1Q |
| Traps & Fittings | ASC10 | MCALPINE TUBULAR TRAP P 11/2" ADJ ASC10 | MCTTP1HA |
| Traps & Fittings | ASC10-CO | MCALPINE TUBULAR TRAP P 11/2" ADJ & 22MM CONNECTOR ASC10-CO | MCASC10CO |
| Traps & Fittings | ASC10V | MCALPINE TUBULAR TRAP P 11/2" ADJ ANTI-SYPHON ASC10V | MCASC10V |
| Traps & Fittings | BOSS110TCAST-BL | MCALPINE 100MM CI TO 1 1/2" BOSS ADAPTOR BOSS110TCAST-BL | MCCIBA41H |
| Traps & Fittings | BOSSCONN1.25BL | MCALPINE RWP BOSS CONNECTOR 1.1/4" BLACK BOSSCONN1.25BL | MCRBC1QB |
| Traps & Fittings | BOSSCONN1.25GR | MCALPINE RWP BOSS CONNECTOR 1.1/4" GREY BOSSCONN1.25GR | MCRBC1QG |
| Traps & Fittings | BOSSCONN110-BL | MCALPINE SOIL BOSS CONNECTOR 1.1/4" BLACK BOSSCONN110-BL | MCBC1QB |
| Traps & Fittings | BOSSCONN110-GR | MCALPINE SOIL BOSS CONNECTOR 1.1/4" GREY BOSSCONN110-GR | MCBC1QG |
| Traps & Fittings | BOSSCONN110T-BL | MCALPINE SOIL BOSS CONNECTOR 1.1/2" BLACK BOSSCONN110T-BL | MCBC1HB |
| Traps & Fittings | BOSSCONN110T-GR | MCALPINE SOIL BOSS CONNECTOR 1.1/2" GREY BOSSCONN110T-GR | MCBC1HG |
| Traps & Fittings | BOSSCONN-22MM | MCALPINE 22MM BOSS CONNECTOR BOSSCONN-22MM | MCBC22 |
| Traps & Fittings | BSW10P | MCALPINE BATH WASTE 11/2" BSW1OP | MCBAW1H |
| Traps & Fittings | BSW11PC | MCALPINE BASIN WASTE 11/4" P&C BSW11PC | MCBWPC1Q |
| Traps & Fittings | BSW1P | MCALPINE BASIN WASTE 11/4" BSW1P | MCBW1Q |
| Traps & Fittings | BSW6P | MCALPINE SINKWASTE 11/2" BSW6P | MCSW1H |
| Traps & Fittings | BSW6PC | MCALPINE SINKWASTE 11/2" P&C BSW6PC | MCSWPC1H |
| Traps & Fittings | BT3 | MCALPINE BIDET TRAP 11/4" 75MM BT3 | MCBIT1Q |
| Traps & Fittings | BWSTOFSS | MCALPINE 1 1/2" CENTREPIN BASKET STRAINER & OVERFLOW | MCBWSTOFSS |
| Traps & Fittings | BWSTSS | MCALPINE 1 1/2" CENTREPIN BASKET STAINER WASTE BWSTSS | MCBWSTSS |
| Traps & Fittings | C10 | MCALPINE BOTTLE TRAP P 11/2" C10 | MCBTP1H |
| Traps & Fittings | C10A | MCALPINE BOTTLE TRAP P ADJ 11/2" C10A | MCBTP1HA |
| Traps & Fittings | C10AR-CP | MCAL BOTTLE TRAP P 11/2 A/V CP C10AR-CP | MCBTP1HVC |
| Traps & Fittings | C10AV | MCALPINE BOTTLE TRAP P 11/2" ADJ C10AV ANTI-SYPHON | MCBTP1HAV |
| Traps & Fittings | C10V | MCALPINE BOTTLE TRAP P 11/2" C10V ANTI-SYPHON | MCBTP1HV |
| Traps & Fittings | CAA10 | MCALPINE BOTTLE TRAP P 11/4" CAA10 CHROME | MCBTP1QC |
| Traps & Fittings | C-BASIN1 | MCALPINE C-BASIN 1 | MCB1 |
| Traps & Fittings | C-BASIN2 | MCALPINE C-BASIN 2 | MCB2 |
| Traps & Fittings | C-BATH1 | MCALPINE C-BATH 1 | MCBA1 |
| Traps & Fittings | C-BATH2 | MCALPINE C-BATH 2 | MCBA2 |
| Traps & Fittings | C-BATH3 | MCALPINE C-BATH 3 | MCBA3 |
| Traps & Fittings | C-BATH4 | MCALPINE C-BATH 4 | MCBA4 |
| Traps & Fittings | CLAMP1WH | MCALPINE CLAMP1WH CONDENSE PIPE CLAMP | MCCLAMP |
| Traps & Fittings | CONFLEX-200 | MCALPINE FLEXIBLE CONDENSATE PIPE CONFLEX-200 | MCFCP200 |
| Traps & Fittings | CONFLEX-300 | MCALPINE FLEXIBLE CONDENSATE PIPE CONFLEX-300 | MCFCP300 |
| Traps & Fittings | CONFLEX-KIT1 | MCALINE FLEXIBLE OVERFLOW PIPE KIT 3MTR CONFLEX-KIT1 | MCCKIT1 |
| Traps & Fittings | CONTRAP1 | MCALPINE CONDENSATION TRAP CONTRAP 1 | MCCONTRAP1 |
| Traps & Fittings | CONVALVE | MCALPINE 3/4" INLINE VERTICAL NON RETURN VALVE CONVALVE | MCCONVALVE |
| Traps & Fittings | CWP60-SS | MCALPINE 11/4" X 60MM SPRING LOAD BASIN WASTE CP BRASS BODY | MCCWP60SS |
| Traps & Fittings | CWP60-SSP | MCALPINE 11/4" X 60MM SPRING LOAD BASIN WASTE PLASTIC BODY | MCCWP60SSP |
| Traps & Fittings | DC1-BL | MCALPINE DRAIN CONNECTOR 110MM SPIGOT/SOCKET BLACK DC1-BL | MCDC1BL |
| Traps & Fittings | DC1-BL-BO | MCALPINE DRAIN CONNECTOR 110MM WITH BOSS BLACK DC1-BL-BO | MCDC1BLBO |
| Traps & Fittings | DC1BL-OS | MCALPINE DRAIN CONNECTOR 110MM OFFSET BLACK DC1BL-OS | MCDC1BLOS |
| Traps & Fittings | DC1-GR | MCALPINE DRAIN CONNECTOR 110MM SPIGOT/SOCKET GREY DC1-GR | MCDC1GR |
| Traps & Fittings | DC1-GR-BO | MCALPINE DRAIN CONNECTOR 110MM WITH BOSS GREY DC1-GR-BO | MCDC1GRBO |
| Traps & Fittings | DC1GR-OS | MCALPINE DRAIN CONNECTOR 110MM OFFSET GREY DC1GR-OS | MCDC1GROS |
| Traps & Fittings | DC2-BL | MCALPINE DRAIN ADAPTOR 110MM 40/32MM BLACK DC2-BL | MCDC2BL |
| Traps & Fittings | DC2BL-OS | MCALPINE DRAIN ADAPTOR 110MM 40/32MM BLACK DC2-BL OFFSET | MCDC2BLOS |
| Traps & Fittings | DC3-BL | MCALPINE DRAIN ADAPTOR 110MM 50MM DC3-BL | MCDC3BL |
| Traps & Fittings | DC4-BL | MCALPINE DRAIN CONNECTOR 110MM BLANK DC4-BL | MCDC4BL |
| Traps & Fittings | DC90-BL | MCALPINE DRAIN CONNECTOR 110MM 90DEG BEND DC90-BL | MCDC90BL |
| Traps & Fittings | DC90-GR | MCALPINE DRAIN CONNECTOR 110MM 90DEG BEND DC90-GR | MCDC90GR |
| Traps & Fittings | E10 | MCALPINE BOTTLE TRAP P 11/4" 38MM SEAL E10 | MCBTP1QSS |
| Traps & Fittings | FBW2PC | MCALPINE COMBI BATH WASTE 11/2" FBW2PC | MCCBAW1H |
| Traps & Fittings | FGT150-SV-110 | FGT150-SV-110 MCALPINE 150MM S/S TILE WITH NRV | FGT150SV110 |
| Traps & Fittings | FLEXCON1 | MCALPINE 1.1/4" FLEXIBLE CONNECTOR FLEXCON 1 | MCFC1 |
| Traps & Fittings | FLEXCON2 | MCALPINE 1.1/2" FLEXIBLE CONNECTOR FLEXCON 2 | MCFC2 |
| Traps & Fittings | FLEXCON3 | MCALPINE 1.1/4" FLEXIBLE WASTE CONNECTOR FLEXCON 3 | MCFC3 |
| Traps & Fittings | FLEXCON4 | MCALPINE 1.1/2" FLEXIBLE WASTE CONNECTOR FLEXCON 4 | MCFC4 |
| Traps & Fittings | FLEXCON5 | MCALPINE 1.1/4" FLEXIBLE SHORT CONNECTOR FLEXCON 5 | MCFC5 |
| Traps & Fittings | FLEXCON6 | MCALPINE 1.1/2" FLEXIBLE SHORT CONNECTOR FLEXCON 6 | MCFC6 |
| Traps & Fittings | FLEXCON7 | MCALPINE 2" FLEXIBLE WASTE CONNECTOR FLEXCON 7 | MCFC7 |
| Traps & Fittings | FSW2PP | MCALPINE COMBI SINKWASTE 11/2" FSW2PP | MCCSW1H |
| Traps & Fittings | FVW1P | MCALPINE COMBI VANITYWASTE 11/4" FVW1P | MCCVW1Q |
| Traps & Fittings | G10 | MCALPINE BOTTLE TRAP P 11/2" 38MM SEAL G10 | MCBTP1HSS |
| Traps & Fittings | HC2650UK | MCALPINE BATH WASTE & OVERFLOW C/W CLICKER WASTE HC2650UK | MCHC2650UK |
| Traps & Fittings | L10 | MCALPINE BATH TRAP 11/2" 75MM L10 | MCBAT1HDS |
| Traps & Fittings | MACVALVE-1 | MCALPINE 1 1/4" BSP X 32MM SELF CLOSING VALVE MACVALVE-1 | MCMV1 |
| Traps & Fittings | MACVALVE-2 | MCALPINE 2 1/2" BSP X 40MM SELF CLOSING VALVE MACVALVE-2 | MCMV2 |
| Traps & Fittings | MACVALVE-3 | MCALPINE 11/4" BSP X 32MM SELF CLOSING VALVE &TUNDISH ADAPTOR | MCMV3 |
| Traps & Fittings | MD200 | MCALPINE MULTI DRAIN OUTLET TO 2" MULTIFIT MD200 | MCMD200 |
| Traps & Fittings | MD400 | MCALPINE MULTI DRAIN OUTLET TO 4" MULTIFIT MD400 | MCMD400 |
| Traps & Fittings | MS20 | MCALPINE M/F OBTUSE ELBOW 11/4" MS20 | MCMFOE1Q |
| Traps & Fittings | MS4 | MCALPINE MULTIFIT ELBOW 11/4" MS4 | MCMFE1Q |
| Traps & Fittings | MT20 | MCALPINE M/F OBTUSE ELBOW 11/2" MT20 | MCMFOE1H |
| Traps & Fittings | MT4 | MCALPINE MULTIFIT ELBOW 11/2" MT4 | MCMFE1H |
| Traps & Fittings | MZ20 | MCALPINE MULTIFIT OBTUSE ELBOW 2" MZ20 | MCMFOE2 |
| Traps & Fittings | MZ4 | MCALPINE MULTIFIT ELBOW 2" MZ4 | MCMFE2 |
| Traps & Fittings | P10 | MCALPINE BATH TRAP 11/4" 19MM P10 | MCBAT1Q |
| Traps & Fittings | PUWF2-CP | MCALPINE WASTEFLOW, POPUP,TRAP 11/2" X 60MM SEAL CP PUWF2-CP | MCPUWF2CP |
| Traps & Fittings | Q10 | MCALPINE BATH TRAP 11/2" 19MM Q10 | MCBAT1H |
| Traps & Fittings | R14 | MCALPINE NON RETURN VALVE IL 3/4" R14 | MCNRVILT |
| Traps & Fittings | R16 | MCALPINE 1.1/4"-3/4" FITTING REDUCER R16 | MCR16 |
| Traps & Fittings | R17 | MCALPINE 1.1/2"-3/4" FITTING REDUCER R17 | MCR17 |
| Traps & Fittings | R1M | MCALPINE CONDENSE COUPLER R1M | MCR1M |
| Traps & Fittings | R1M-CO | MCALPINE CONDENSATE COUPLER R1M-CO (25MM) | MCR1MCO |
| Traps & Fittings | R28-NRV | MCALPINE 3/4" NON RETURN VALVE UNIVERSAL CONNECTIONS R28-NRV | MCNRVR28 |
| Traps & Fittings | R2AM | MCALPINE 45 DEG BEND 19/23MM R2AM | MCR2AM |
| Traps & Fittings | R2M | MCALPINE 90 DEG BEND 19/23MM R2M | MCRM2 |
| Traps & Fittings | R3M | MCAPLINE TEE 19/23MM R3M | MCR3M |
| Traps & Fittings | R45 | MCALPINE R45 SCREENED TANK OVERFLOW CONECTOR | MCR45 |
| Traps & Fittings | R4M | MCALPINE 19/23MM STRAIGHT TANK CONNECTOR R4M | MCR4M |
| Traps & Fittings | R5M | MCALPINE BENT TANK CONNECTOR 19/23MM R5M | MCR5M |
| Traps & Fittings | S11M | MCALPINE MULTIFIT TANKCONN 11/4" S11M | MCMFTC1Q |
| Traps & Fittings | S12A-1 | MCALPINE M/F TRAP EXT 11/4"X 1" S12A-1 | MCMFTE1QS |
| Traps & Fittings | S12A-2 | MCALPINE M/F TRAP EXT 11/4"X 2" S12A-2 | MCMFTE1Q |
| Traps & Fittings | S12A-F | MCALPINE BSP COUPLING 1.25" S12A-F | MCS12AF |
| Traps & Fittings | S12C | MCALPINE ADAPTOR 11/4" X 1" SC12 | MCTAS12C |
| Traps & Fittings | S16 | MCALPINE TRAP ADAPTOR 11/4"-1" BSP MI S16 | MCTRA |
| Traps & Fittings | S18-ABS | MCALPINE 1 1/4" STRAIGHT CONN P/FIT TO SOLVENT WELD S18-ABS | MCS18-ABS |
| Traps & Fittings | S23M | MCALPINE MULTIFIT 11/4" BLANK CAP S23M | MCMFBC1Q |
| Traps & Fittings | S23U | MCALPINE BLANKING CAP 1.1/4" MULTIFIT S23U | MCS23U |
| Traps & Fittings | S28L-ISO | MCALPINE 11/4 COUPLER MULTIFIT X DIN S28L-ISO | MCMFC1QD |
| Traps & Fittings | S28M | MCALPINE MULTIFIT COUPLER 11/4" S28M | MCMFC1Q |
| Traps & Fittings | S29 | MCALPINE MULTIFIT CAP/LINING 11/4" S29 | MCMFCL1Q |
| Traps & Fittings | S31M | MCALPINE 1"1/4 BSP COUPLER S31M | MCT24C |
| Traps & Fittings | S31U | MCALPINE 11/4" BSP MALE X 32MM STRAIGHT CONNECTOR S31U | MCS31U |
| Traps & Fittings | S4U | MCALPINE 11/4" BSP X 11/4" BSP MALE 90 DEGREE BEND S4U | MCS4U |
| Traps & Fittings | SA10 | MCALPINE TUBULAR TRAP P 11/4" SA10 | MCTTP1Q |
| Traps & Fittings | SA10V | MCALPINE TUBULAR TRAP P 11/4" SA10V ANTI-SYPHON | MCTTP1QAV |
| Traps & Fittings | SB10 | MCALPINE TUBULAR TRAP S 11/4" SB10 | MCTTS1Q |
| Traps & Fittings | SC10 | MCALPINE TUBULAR TRAP P 11/2" SC10 | MCTTP1H |
| Traps & Fittings | SC10V | MCALPINE TUBULAR TRAP P 11/2" SC10V ANTI-SYPHON | MCTTP1HAV |
| Traps & Fittings | SD10 | MCALPINE TUBULAR TRAP S 11/2" SD10 | MCTTS1H |
| Traps & Fittings | SE10 | MCALPINE TUBULAR TRAP P 2" SE10 | MCTTP2 |
| Traps & Fittings | SG10 | MCALPINE RUNNING TRAP 2" SG10 | MCRTP2 |
| Traps & Fittings | SK1 | MCALPINE 11/2 BOWL SINK KIT SK1 | MCSK1HB |
| Traps & Fittings | SM10 | MCALPINE BATH TRAP 11/2" 50MM SEAL SM10 | MCSM10 |
| Traps & Fittings | SM10E | MCALPINE BATH TRAP 11/2" 60MM SEAL SM10E | MCBT1H60 |
| Traps & Fittings | SM10V | MCALPINE BATH TRAP 11/2" 50MM SEAL SM10V ANTI-SYPHON | MCBT1H50V |
| Traps & Fittings | SOAK1GR | MCALPINE SOAKAWAY GREY SOAK1GR | MCSAG |
| Traps & Fittings | SP10 | MCALPINE ALL ONE TRAP 11/4" SP10 | MCAOT1Q |
| Traps & Fittings | SR10 | MCALPINE RUNNING TRAP P 11/4" SR10 | MCRTP1Q |
| Traps & Fittings | SSK1 | MCALPINE SINGLE BOWL SINK KIT SSK1 | MCSSK1B |
| Traps & Fittings | SSK2 | MCALPINE DOUBLE BOWL SINK KIT SSK2 | MCSSK2B |
| Traps & Fittings | SSK3 | MCALPINE THREE BOWL SINK KIT SSK3 | MCSSK3B |
| Traps & Fittings | ST28M | MCALPINE MULTIFIT 11/4 X 11/2 STRAIGHT CONNECTOR ST28M | MCST28M |
| Traps & Fittings | ST90CP10-70 | MCALPINE SHOWER TRAP CHROME 90MM FLANGE ST90CP10-7 | MCSTWST90 |
| Traps & Fittings | STW10-R | MCALPINE SHOWER TRAP CHROME 70MM FLANGE STW10-R | MCSTW10R |
| Traps & Fittings | STW1-R | MCALPINE SHOWER TRAP WHITE STW1-R | MCSTW1R |
| Traps & Fittings | STW3-R | MCALPINE SHOWER TRAP C/P STW3-R | MCSTW3R |
| Traps & Fittings | STW4-R | MCALPINE SHOWER TRAP CHROME 50MM SEAL STW4-R | MCSTW4R |
| Traps & Fittings | STW70GP | MCALPINE SHOWER WASTE GOLD PLATED STW70GP | MCSTW70GP |
| Traps & Fittings | STW8-R | MCALPINE SHOWER TRAP CP STW8-R | MCSTW8R |
| Traps & Fittings | STW8-RB | MCALPINE SHOWER TRAP RESEALING 85MM BRASS FLANGE CP STW8-RB | MCSTW8RB |
| Traps & Fittings | STW9-R | MCALPINE SHOWER TRAP WHITE 70MM FLANGE STW9-R | MCSTW9R |
| Traps & Fittings | T11M | MCALPINE MULTIFIT TANKCONN 11/2" T11M | MCMFTC1H |
| Traps & Fittings | T12 | MCALPINE 1.1/2"-1.1/4" WASTE OUTLET THREADED REDUCER T12 | MCT12 |
| Traps & Fittings | T12A-2 | MCALPINE M/F TRAP EXT 11/2" X 2" T12A-2 | MCMFTE1H |
| Traps & Fittings | T12A-F | MCALPINE BSP COUPLING 1.5" T12A-F | MCT12AF |
| Traps & Fittings | T12M | MCALPINE MULTIFIT 11/2 X 11/4 FITTING REDUCER T12M | MCT12M |
| Traps & Fittings | T16 | MCALPINE MULTIFIT INLET REDUCER 11/2" X 11/4" T16 | MCMFIR1H1Q |
| Traps & Fittings | T18-ABS | MCALPINE 1 1/2" STRAIGHT CONN P/FIT TO SOLVENT WELD T18-ABS | MCT18-ABS |
| Traps & Fittings | T23M | MCALPINE MULTIFIT 11/2" BLANK CAP T23M | MCMFBC1H |
| Traps & Fittings | T23U | MCALPINE BLANKING CAP 1.1/2" MULTIFIT T23U | MCT23U |
| Traps & Fittings | T25 | MCALPINE 1"1/2 BSP COUPLER T25 | MCT25C |
| Traps & Fittings | T28L-ISO | MCALPINE 11/2 COUPLER MULTIFIT X DIN T28L-ISO | MCMFC1HD |
| Traps & Fittings | T28M | MCALPINE MULTIFIT COUPLER 11/2" T28M | MCMFC1H |
| Traps & Fittings | T28M-NRV | MCALPINE MFIT TEE NON RETURN T28M-NRV | MCMFTNR |
| Traps & Fittings | T29 | MCALPINE MULTIFIT FI COUPLING 11/2" T29 | MCMFCL1H |
| Traps & Fittings | T29-LN | MCALPINE MULTIFIT FI SWIVEL COUPLING 1.1/2" T29-LN | MCT29LN |
| Traps & Fittings | T31U | MCALPINE 11/2" BSP MALE X 42MM STRAIGHT CONNECTOR T31U | MCT31U |
| Traps & Fittings | T4U | MCALPINE 11/2" BSP X 11/2" BSP MALE 90 DEGREE BEND T4U | MCT4U |
| Traps & Fittings | T5M-A | MCALPINE 1"1/2 BSP ELBOW CAPTIVE NUT T5M-A | MCT5M |
| Traps & Fittings | TP10 | MCALPINE ALL ONE TRAP 11/2" TP10 | MCAOT1H |
| Traps & Fittings | TR10 | MCALPINE RUNNING TRAP 11/2" TR10 | MCRTP1H |
| Traps & Fittings | TSG1SS | MCALP SHOWER GULLEY SHEET FLOOR TSG1SS HORIZONTAL OUTLET | MCTSG1SS |
| Traps & Fittings | TSG1SS-SL-SC | MCALP SHOWER GULLEY SHEET FLOOR TSG1SSSLSC HORIZ OUTLET | MCTSG1SSSLSC |
| Traps & Fittings | TSG1T6SS | MCALP SHOWER GULLEY 150MM TILED FLOOR TSG1T6SS | MCSG1T6SS |
| Traps & Fittings | TSG1T6WH | MCALP SHOWER GULLEY 150MM TILED FLOOR TSG1T6WH | MCSG1T6WH |
| Traps & Fittings | TSG1-WH | MCALP SHOWER GULLEY SHEET FLOOR TSG1WH HORIZONTAL OUTLET | MCTSG1WH |
| Traps & Fittings | TSG2T6SS | MCALP SHOWER GULLEY 150MM TILED FLOOR TSG2T6SS | MCSG2T6SS |
| Traps & Fittings | TSG2T6WH | MCALP SHOWER GULLEY 150MM TILED FLOOR TSG2T6WH | MCSG2T6WH |
| Traps & Fittings | TSG2WH | MCALP SHOWER GULLEY SHEET FLOOR TSG2WH VERTICAL OUTLET | MCTSG2WH |
| Traps & Fittings | TSG50WH | MCA STEEL SHOWER GULLEY SHEET FLOOR TSG50SS HORIZ OUTLET | MCTSG50SS |
| Traps & Fittings | TUN-1 | MCALPINE TUN DISH 3/4" SPIGOT OUTLET TUN-1 | MCTUN1 |
| Traps & Fittings | TUN-2 | MCALPINE TUN DISH 3/4" UNIVERSAL OUTLET TUN-2 | MCTUN2 |
| Traps & Fittings | TUN-3 | MCALPINE TUN DISH 3/4 BENT ONE PIECE UNIVERSAL OUTLET TUN-3 | MCTUN3 |
| Traps & Fittings | TUN-4 | MCALPINE TUN DISH 3/4" STR ONE PIECE UNIVERSAL OUTLET TUN-4 | MCTUN4 |
| Traps & Fittings | TUN5-CL | MCALPINE TUN DISH 3/4" STR ONE PIECE UNIVERSAL OUTLET TUN-5CL | MCTUN5CL |
| Traps & Fittings | TUNKIT-1 | MCALPINE TUNKIT-1 DISH+TEE+BEND+PIPE | MCTK1 |
| Traps & Fittings | TUNKIT-3 | MCALPINE TUNKIT-3 DISH+TEE+BEND+PIPE | MCTK3 |
| Traps & Fittings | TUNVALVE | MCALPINE NON RETURN O/F VALVE 3/4" FI TO OVERFLOW TUNVALVE | MCTUNVALVE |
| Traps & Fittings | V15M | MCALPINE MULTIFIT SWEPT TEE 2" V15M | MCMFT2 |
| Traps & Fittings | V1M | MCALPINE MULTIFIT SWEPT TEE 11/2" V1M | MCMFT1H |
| Traps & Fittings | V1MX | MCALPINE MULTIFIT SLIP TEE 1.1/2" V1MX | MCMST1H |
| Traps & Fittings | V1MX-CO | MULTIFIT TEE 11/2" WITH OVERFLOW REDUCER | MCV1MX-CO |
| Traps & Fittings | V33L | MCALPINE WASHING MACHINE TEE 11/2" X 3/4" ADAPTOR V33L | MCWMT |
| Traps & Fittings | V33S | MCALPINE WASHING MACHINE TEE PIECE 11/2X3/4 135' ADAP V33S | MCV33S |
| Traps & Fittings | V33T | MCALPINE FLUSH PIPE TEE 11/2" V33T | MCFPT1H |
| Traps & Fittings | V33WM | MCALPINE 11/2" TWIN APPLANCE TEE V33WM | MCWMAT |
| Traps & Fittings | V8M | MCALPINE MULTIFIT SWEPT TEE 11/4" V8M | MCMFT1Q |
| Traps & Fittings | VP100 | MCALPINE VENTAPIPE 100 VP100 | MCVP100 |
| Traps & Fittings | VP2W | MCALPINE VERTICAL VENTAPIPE 1.1/2" VP2W | MCVP2W |
| Traps & Fittings | VP3 | MCALPINE HORIZONTAL VENTAPIPE 1.1/2" VP3 | MCVP3 |
| Traps & Fittings | WF21 | MCALPINE WASTEFLOW WF21 | MCWF21 |
| Traps & Fittings | WF21-SP | MCALPINE WF21-SP CONDENSATION WASTEFLOW | MCWF21SP |
| Traps & Fittings | WM11 | MCA WASHING MACHINE TRAP WM11 | MCWM11 |
| Traps & Fittings | WM12 | MCA WASHING MACHINE TRAP WM12 | MCWM12 |
| Traps & Fittings | WM14 | MCA WASHING MACHINE TRAP WM14 | MCWM14 |
| Traps & Fittings | WM15 | MCA WASHING MACHINE TRAP WM15 | MCWM15 |
| Traps & Fittings | WM2 | MCA WASHING MACHINE TRAP WM2 | MCWM2 |
| Traps & Fittings | WM3 | MCA WASHING MACHINE TRAP WM3 | MCWM3 |
| Traps & Fittings | WM4 | MCA WASHING MACHINE TRAP WM4 | MCWM4 |
| Traps & Fittings | WMF3 | MCALPINE WASHING MACHINE STR NOZZLE TO 11/2" MULTIFIT WMF3 | MCWMF3 |
| Traps & Fittings | WMF4 | MCALPINE WASHING MACHINE BENT NOZZLE TO 11/2" MULTIFIT WMF4 | MCWMF4 |
| Traps & Fittings | WU10 | MCALPINE DOMED URINALWASTE 11/4" WU10 | MCDUW1Q |
| Traps & Fittings | WU11 | MCALPINE DOMED URINALWASTE 11/2" WU11 | MCDUW1H |
| Traps & Fittings | WU20 | MCALPINE 2" WHITE DOMED URINAL WASTE WU20 | MCWU20 |
| Traps & Fittings | X10 | MCALPINE PEDESTAL TRAP 11/4" X10 | MCPT1Q |
| Traps & Fittings | X10A | MCALPINE PEDESTAL TRAP 11/4" X10A 2 CLEANING EYES | MCPT1Q2E |
| Traps & Fittings | X10V | MCALPINE PEDESTAL TRAP 11/4" X10V ANTI-SYPHON | MCPT1QAV |
| Traps & Fittings | Z11M | MCALPINE MULTIFIT TANKCONN 2" Z11M | MCMFTC2 |
| Traps & Fittings | Z23M | MCALPINE MULTIFIT 2" BLANK CAP Z23M | MCMFBC2 |
| Traps & Fittings | Z23U | MCALPINE BLANKING CAP 2" MULTIFIT Z23U | MCZ23U |
| Traps & Fittings | Z28L-ISO | MCALPINE 2" COUPLER MULTIFIT X DIN Z28L-ISO | MCMFC2D |
| Traps & Fittings | Z28M | MCALPINE MULTIFIT COUPLER 2" Z28M | MCMFC2 |
| Traps & Fittings | Z29 | MCALPINE MULTIFIT CAP/LINING 2" Z29 | MCMFCL2 |
| Traps & Fittings | ZS26L | MCALPINE 2" X 1 1/4" FITTING REDUCER ZS26L | MCFR21Q |
| Traps & Fittings | ZT26L | MCALPINE 2" X 1.1/2" FITTING REDUCER ZT26L | MCZT26L |
| WC Connectors | ARB-1 | MCALPINE ANTI-CROSS FLOW & RODENT BARRIER VALVE ARB1 | MCDCARB1 |
| WC Connectors | MAC-1 | MCALPINE MACFIT STRAIGHT WC CONNECTOR | MAC1 |
| WC Connectors | MAC-1-BTW | MCALPINE WC CONNECTOR MAC-1-BTW | MAC1BTW |
| WC Connectors | MAC-4 | MCALPINE MACFIT 18MM OFFSET WC CONNECTOR | MAC4 |
| WC Connectors | MAC-7A | MCALPINE MACFIT 14 DEG ANGLE WC CONNECTOR | MAC7A |
| WC Connectors | MAC-8 | MCALPINE MACFIT 90 DEG BEND WC CONNECTOR | MAC8 |
| WC Connectors | MAC-8L | MCALPINE MACFIT 90 DEG LONG BEND WC CONNECTOR | MAC8L |
| WC Connectors | MAC-EXTA | MCALPINE MACFIT EXTENSION 4" OUTLET STRAIGHT CONNECTOR | MACEXTA |
| WC Connectors | MAC-EXTB | MCALPINE MACFIT EXTENSION 3.5" OUTLET STRAIGHT CONNECTOR | MACEXTB |
| WC Connectors | MAC-EXTC | MCALPINE MACFIT EXTENSION 3" OUTLET STRAIGHT CONNECTOR | MACEXTC |
| WC Connectors | MACLINK | MCALPINE MACFIT LINKING CONNECTOR | MACLINK |
| WC Connectors | WC-BP1 | MCALPINE WC BOSS PIPE ADAPTOR FOR WC CONNECTORS WC-BP1 | MCWCBP1 |
| WC Connectors | WC-CON1 | MCALPINE WC STRAIGHT CONNECTOR WC-CON1 | MCWCCON1 |
| WC Connectors | WC-CON1V | MCALPINE WC STRAIGHT CONNECTOR WITH 11/4" BOSS PIPE WC-CON1V | MCCON1V |
| WC Connectors | WC-CON2 | MCALPINE WC CONNECTOR STR ADJ LENGTH WC-CON2 | MCWCCON2 |
| WC Connectors | WC-CON2B | MCALPINE WC CONNECTOR STR ADJ LENGTH 3.1/2" WC-CON2B | MCWCCON2B |
| WC Connectors | WC-CON3 | MCALPINE WC STRAIGHT CONNECTOR ADJUSTABLE LENGHT WC-CON3 | MCCON3 |
| WC Connectors | WC-CON4 | MCALPINE WC CONNECTOR 20MM OFFSET WC-CON4 | MCWCCON4 |
| WC Connectors | WC-CON4A | MCALPINE WC CONNECTOR 40MM OFFSET WC-CON4A | MCWCCON4A |
| WC Connectors | WC-CON5 | MCALPINE WC CONNECTOR 20MM OFFSET ADJ LENGTH WC-CON5 | MCWCCON5 |
| WC Connectors | WC-CON7 | MCALPINE WC CONNECTOR 14DEG ANGLE ADJ LENGTH WC-CON7 | MCWCCON7 |
| WC Connectors | WC-CON7A | MCALPINE WC CONNECTOR 14DEG ANGLE WC-CON7A | MCWCCON7A |
| WC Connectors | WC-CON8 | MCALPINE WC CONNECTOR 90DEG BENT WC-CON8 | MCCON8 |
| WC Connectors | WC-CON8E | MCALPINE WC CONNECTOR 90DEG EXTENDED INLET WC-CON8E | MCWCCON8E |
| WC Connectors | WC-CON8F | MCALPINE WC BENT FLEXI PAN CONNNECTOR WC-CON8F | MCCON8F |
| WC Connectors | WC-CON8F18 | MCALPINE WC BENT FLEXI PAN CONNNECTOR WC-CON8F18 | MCCON8F18 |
| WC Connectors | WC-CON8F18-BTW | MCALPINE WC CONNECTOR WC-CON8F18-BTW | WCCON8F18BTW |
| WC Connectors | WC-CON8F18-S-BTW | MCALPINE WC CONNECTOR WC-CON8F18-S-BTW | WCCON8F18SBTW |
| WC Connectors | WC-CON8F-BTW | MCALPINE WC CONNECTOR WC-CON8F-BTW | WCCON8FBTW |
| WC Connectors | WC-CON8F-S-BTW | MCALPINE WC CONNECTOR WC-CON8F-S-BTW | WCCON8FSBTW |
| WC Connectors | WC-CON8FV | MCALPINE WC BENT FLEXI CONNECT WITH 11/4" BOSS PIPE WC-CON8FV | MCCON8FV |
| WC Connectors | WC-CON8V | MCALPINE BENT PANCONN & BOSS WC-CON8V | MCPCBB |
| WC Connectors | WC-CON-EXT | MCALPINE WC CONNECTOR WC-CON-EXT | WCCONEXT |
| WC Connectors | WC-CONQ | MCALPINE PAN CONNECTOR WC-CONQ | MCPCCQ |
| WC Connectors | WC-F18R | MCALPINE FLEXIBLE WC CONNECTOR WC-F18R | MCWCF18R |
| WC Connectors | WC-F18S | MCALPINE FLEXIBLE WC CONNECTOR 3.1/2" OUTLET WC-F18S | MCWCF18S |
| WC Connectors | WC-F21R | MCALPINE FLEXIBLE WC CONNECTOR FOR BTW PAN WC-F21R | MCWCF21R |
| WC Connectors | WC-F23R | MCALPINE FLEXIBLE WC CONNECTOR WC-F23R | MCWCF23R |
| WC Connectors | WC-F23RV | MCALPINE FLEXIBLE WC CONNECTOR 1.1/4" BOSS WC-F23RV | MCWCF23RV |
| WC Connectors | WC-F26R | MCALPINE FLEXIBLE WC CONNECTOR WC-F26R | MCWCF26R |
| WC Connectors | WC-F26RV | MCALPINE FLEXIBLE WC CONNECTOR 11/4" BOSS WC-F26RV | MCWCF26RV |
| WC Connectors | WC-F26S | MCALPINE FLEXIBLE WC CONNECTOR 3.1/2" OUTLET WC-F26S | MCWCF26S |
| | | MCALP SHOWER GULLEY 150MM S/S TILED FLOOR TSG1T6SS | MCTSG1TSS |
| | | MCA WHITE SHOWER GULLEY SHEET FLOOR TSG50WH HORIZ OUTLET | MCTSG50WH |
| | | MCALP SHOWER GULLEY SHEET FLOOR TSG2SS VERTICAL OUTLET | MCTTSG2SS |